Building Hardware
Drawer Pulls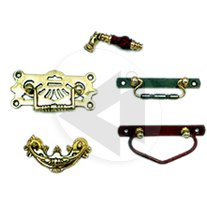 Right side both Drawer pulls are simple and with color & Gold plated.
Same can be available in Brass Buff Polish.
Left side both Drawer Pulls are Fancy and produced by "sand casting".
---
BRASS ZOOLA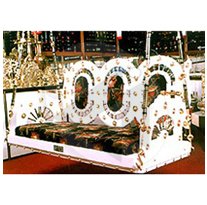 Now a days these type of Brass zoola is used extensively in Western and European countries because it is very attractive and looks very pretty when it is fixed in the main hall.
Brass Zoola is available in single seated, double seated & three seated (As shown in Photograph) with different finishes like varnish,polished wood etc.
Connecting rods or you can say Zoola chain available in Solid Brass or Pipe chain with color & Gold plated along with diamond cut.
---
We can manufacture and export Drawer Pulls & Brass Zoola as per specifications (custom drawing and samples) for more information please
contact us